Rehman Therapy offers mental health treatment for
teens, adults, couples, & families
Calm Anxiety, Treat Substance Abuse, Challenge Mood Disorders & Live A
More Mindful Life
A whole body experience that impacts how you perceive the world. At times, it can feel debilitating. With the help of therapy, you will learn how to build up your tolerance for emotions, thoughts, behaviors, and situations that create discomfort. It's time to get comfortable with the uncomfortable!​

The disease of addiction can be a challenging road, especially it being an isolating illness. Learning how to fight the urge to engage in addictive behaviors will be a valuable coping skill to manage your addiction. Having support in learning these skills will be crucial in the healing and recovery process. ​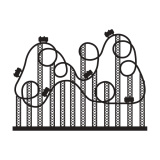 Emotions can be like a roller coaster, fluctuating in ways that become unmanageable. Finding ways to challenge unhealthy coping patterns and incorporating positive skills can help improve mood and daily functioning.​
Contact Me For More Information
2030 E. ALGONQUIN RD
SUITE 402
SCHAUMBURG, IL 60173